Case Study: How The Vacuum Lifting Company Built Safer Vacuum Lifters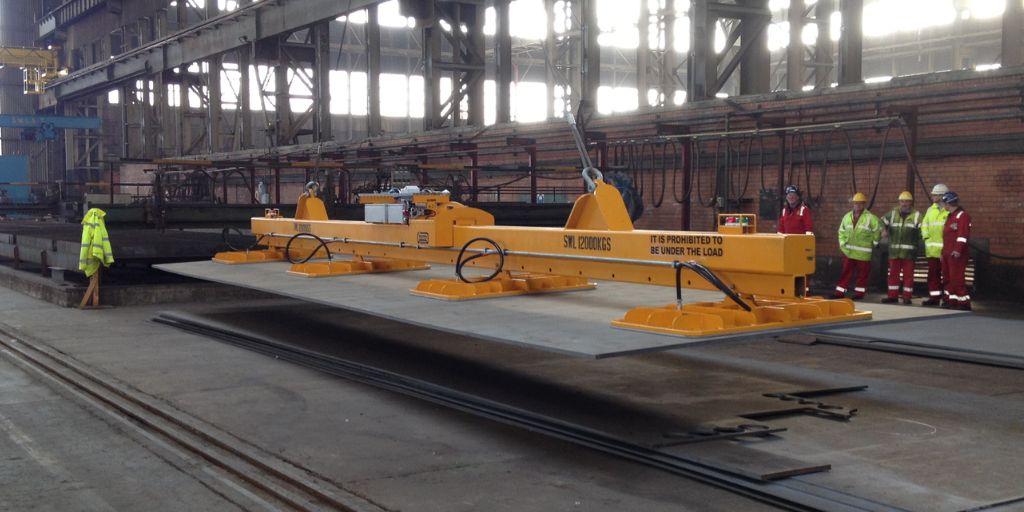 For The Vacuum Lifting Company, safety and eliminating damage are top priorities. Since 1999, they have manufactured battery and AC-powered vacuum lifters that increase operator safety and reduce handling times and manning levels. Their customers use their lifters to unload pipes from ships, handle and install concrete, and lift steel plates, laser cutters, titanium, aluminum, and other valuable products.
In 2002, The Vacuum Lifting Company shifted its focus to creating portable vacuum lifters that would improve safety while increasing operator productivity. Paul Watson, Managing Director, started looking for battery-powered diaphragm pumps that were small, compact, lightweight, and powerful – and his search led him to Dynaflo, Inc.
When we asked Paul why he chose Dynaflo's diaphragm vacuum pumps over others on the market, he said,
"Dynaflo's pumps are the right mix of size, weight, power, and price."
Dynaflo's 1000 Series diaphragm vacuum pumps weigh around 5.5 lbs (2.5 kg), and the largest dual head pump is approximately 5.81 x 4.75 in (14.76 -12.07 cm). This size and weight combination make the 1000 Series ideal for The Vacuum Lifting Company's portable vacuum lifters because they can fit the diaphragm pumps into a compact space, allowing 1-2 in smaller lifters and up to 20-30 diaphragm pumps in their larger vacuum lifters.
The Vacuum Lifting Company uses Dynaflo's 1000 Series pumps in their portable vacuum lifters because they are easy to integrate into their devices, reliable, easy to maintain and provide their customers with greater safety.
Before working with Dynaflo, Inc., the Vacuum Lifting Company used a single large diaphragm pump in their lifters. One of their customers was using such a lifter to lift 15 tons of weight when the lifter suddenly failed and fell on the customer's radiography suite, causing considerable damage. The Vacuum Lifting Company replaced the customer's lifter with one of their new portable lifters that contain multiple smaller Dynaflo diaphragm pumps to provide greater safety and reliability. Now, if there are any problems with the crane, the load can hold on for two to three days until they can fix the issue.
Shared convenience is another reason the Vacuum Lifting Company uses Dynaflo diaphragm pumps. Many of The Vacuum Lifting Company's lifters are portal-mounted or mobile crane-mounted, used outdoors, and self-powered. "It just makes the system independent of any external power source," says Paul.
When we asked Paul what makes the Dynaflo pumps different from other pumps he's tried in the past, he replied,
"The pump is great. It's ideal for us because the bulk of our [portable lifters] are smaller, and the pumps are compact and lightweight - and it's pretty waterproof, which helps if you lift wet slab outdoors".
When we asked if they have needed to change or customize the diaphragm pumps since they began using them in 2002, Paul replied, "No. The original pump had smaller motors, so you updated the motors and a few of the components, but essentially it is the same pump." The only item Paul recommends we change would be to provide slightly larger holding bolts.
The biggest reason The Vacuum Lifting Company would recommend Dynaflo pumps is "the reliability and the performance of the pump." For their smaller lifters, where their customers may only be lifting kilograms, they can only fit one pump in the lifter, "so the pump has to be compact, reliable and easy to maintain," says Paul.
The Vacuum Lifting Company uses the bulk of Dynaflo's single diaphragm pumps in their Archback Mini and little SKDT lifters – and they run for 8-9 hours before requiring a charge or battery swap.
The Vacuum Lifting Company's portable battery-powered lifters can be used on-site, in factories, or in stockyards with capacities from 200 lbs to 50 tons (100 - 50,000 kgs). Their customers love their vacuum lifters because they are safe, eliminate damage, and are convenient and easy to use. The unique advantage The Vacuum Lifting Company provides in the marketplace is that their lifters provide instantaneous vacuum, so operators don't waste any time waiting around when they want to place the lifter on material and move it to its new location.