6000 SERIES MINI GAS DIAPHRAGM PUMPS
Reliably and precisely control flow
The 6000 Series mini diaphragm vacuum pumps are ideal for drug infusion systems and other devices that need to generate short bursts of pneumatic pressure, vacuum, and precise flow control—and it meets FDA requirements.
| | |
| --- | --- |
| Power & Flow | ~1.0 lpm/W |
| Max Flow | 5.5 lpm (0.2 cfm) |
| Max Vacuum | -900 mbar (27 in Hg) |
| Max Pressure | 0.8 bar (11 psi) |
Why customers love the 6000 Series
Tried and proven in the medical industry, these mini pumps are durable and high flow for their size.
Why
you

will love this pump
The 6000 Series features two diaphragm pump "heads" driven by a central brushless D.C. motor. One head is used for vacuum and the other for pressure. These outputs are used with valves and related electronics to precisely control flow. Other motor and head configurations are available for different applications.
The 6000 Series mini diaphragm pump is small and lightweight, weighing approximately 0.22 lbs (0.1 kg), to easily integrate into small portable products and compact spaces.
We specialize in creating reliable miniature diaphragm pumps for the medical industry. Our 6000 Series mini diaphragm pumps are ideal for products like drug infusion systems, which require the ability to restart under load.
Designed and built in the United States with high-quality, precision materials and a strong focus on safe, reliable performance.
Dynaflo uses high-quality materials for the valve, diaphragm, and bearings to maximize the life of your products in any environment. And, like all Dynaflo diaphragm pumps, they are completely oil-less, therefore great for handling sensitive gases.
Oil-free diaphragm pumps require significantly less maintenance than pumps that require oil. When maintenance is needed, replacement parts are readily available and easy to get to and replace.
Dynaflo, Inc. can tailor pumps to meet your unique requirements, test conditions, and packaging upon request. These are typical specifications for the 6000 dual head mini diaphragm pumps (a single head version is available as well).
| | |
| --- | --- |
| Power & Flow | ~1.0 lpm/W |
| Max Flow | 5.5 lpm (0.2 cfm) |
| Max Vacuum | ~900 mbar (27 in Hg) |
| Max Pressure | ~1.7 bar (25 psi) |
| Motor Options | Brush DC, Brushless DC, custom |
| Voltage | 12 VDC, custom |
| Current | ~ 5.5 A |
| Weight | ~0.22 lbs (0.1 kg) |
| Mounting | Custom |
| Valve Material | Silicone or custom |
| Diaphragm Material | EPDM or custom |
| Port Orientation | Side-by-side |
| Wire /Connector | Flying lead or custom |
| Other | Single or dual head options |
Create
your

competitive edge
Dynaflo, Inc. provides diaphragm pump customization services to help your products stand out from the crowd. We can adjust flow, performance, motor, and mechanical options to fit your precise requirements—or design an entirely new pump unique to you. The most requested customization features include:
Port configuration to minimize hosing
Material options for diaphragms and valves
Specialized wiring and connectors
Distinct mounting specifications
White labeling to provide exclusivity of the pump design
Material options for diaphragms and valves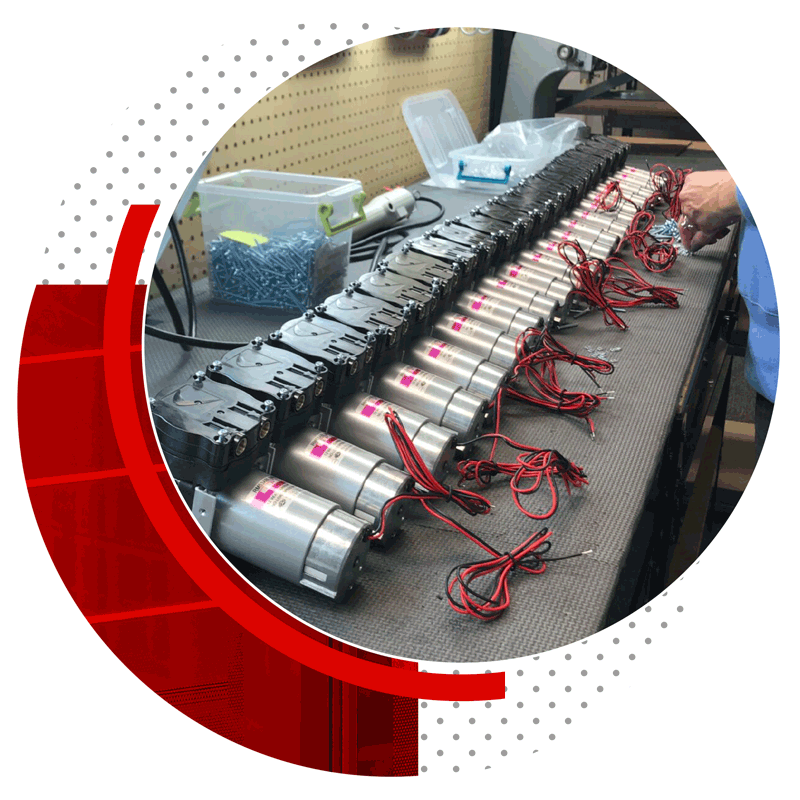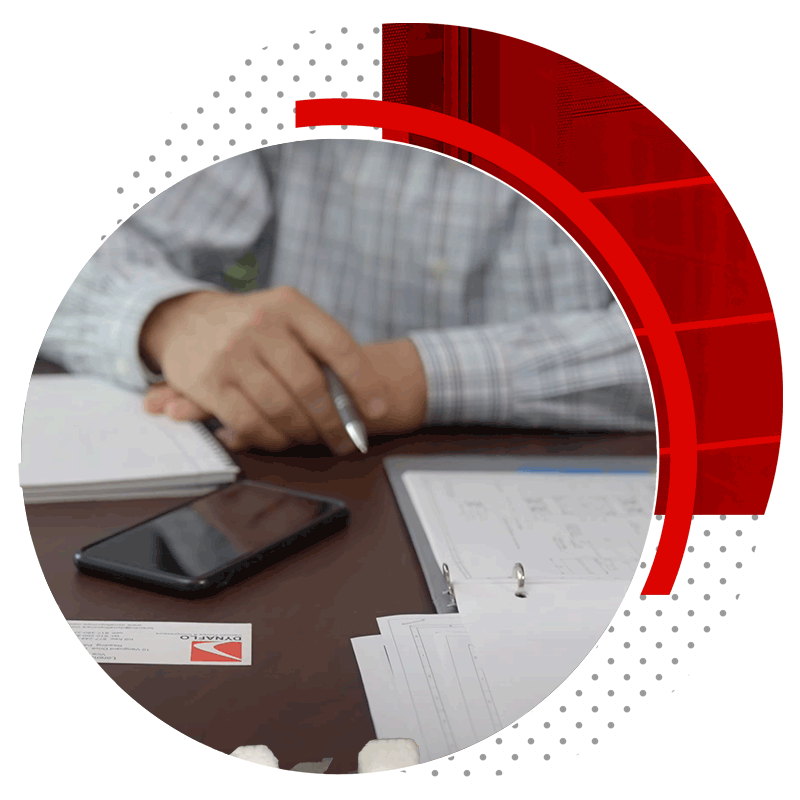 Building the perfect product
together
Dynaflo, Inc. understands the importance of getting your products to market quickly. We provide skillful and confidential guidance throughout all phases of diaphragm pump development to create pumps that seamlessly integrate into your products and provide you with added value.
We work with your engineers and product managers to discuss the current market requirements your product must meet and the features that will delight your customers. We use this information to determine your product's proper flow rate, cycle time, power, and vacuum/pressure levels.
We provide complimentary trial periods for pumps that meet your specifications so you can quickly test and evaluate how the pump will perform in your product - for free. We then work together to determine if modifications need to be made to the pump's standard specifications to ensure it meets all your requirements, mounts quickly, and is easy to maintain.
If changes are required, Dynaflo's Engineering will fine-tune the material, mechanical, electrical and mounting options of the pump to fit the precise requirements of your product.
We inspect and test 100% in line with your requests before sending your diaphragm pump for final testing in your products.
Once all tests have passed, we ship your diaphragm pumps and spare parts. It is important to us to minimize the overall running costs of our diaphragm pumps, and we take this into account in the pricing of our pumps and replacement parts.
Our partnership doesn't end once you have your pumps. After your products are in use, we will reach out to collect your feedback and evaluate how the diaphragm pumps are working for you. As the market changes and new needs develop, we respond with innovative, suitable solutions.
Learn more about the 6000 Series pump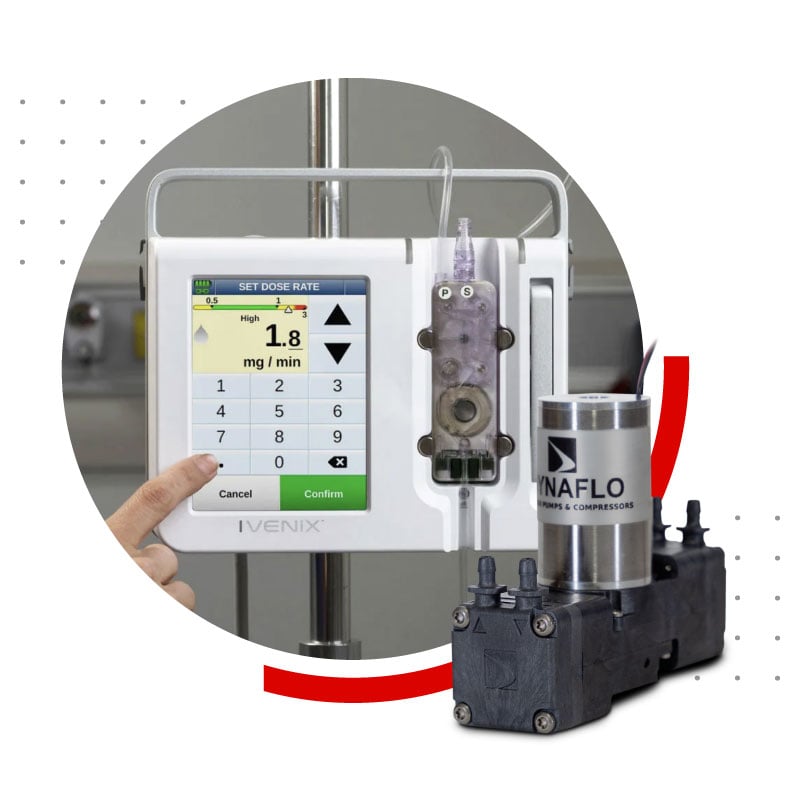 How the 6000 series is used for drug infusion systems
Learn how Dynaflo's ability to provide quick design iterations and 3D-printed prototypes enabled Ivenix to forge ahead with a patented technology and produce its revolutionary drug delivery system.
Let's create your diaphragm pump
Every product is different, and some are one of a kind. We're excited to hear about your products and how Dynaflo, Inc. can provide you with a competitive edge.