MICRO DIAPHRAGM PUMPS FOR PROSTHETICS
Design prosthetics that
amplify trust
Ensure your suction-based prosthetics remain securely attached to an amputee's limb, even when they move in ways that might disrupt suction. Dynaflo designs high-performing, compact gas diaphragm pumps to help your prosthetics mimic the natural movement and feel of a human limb.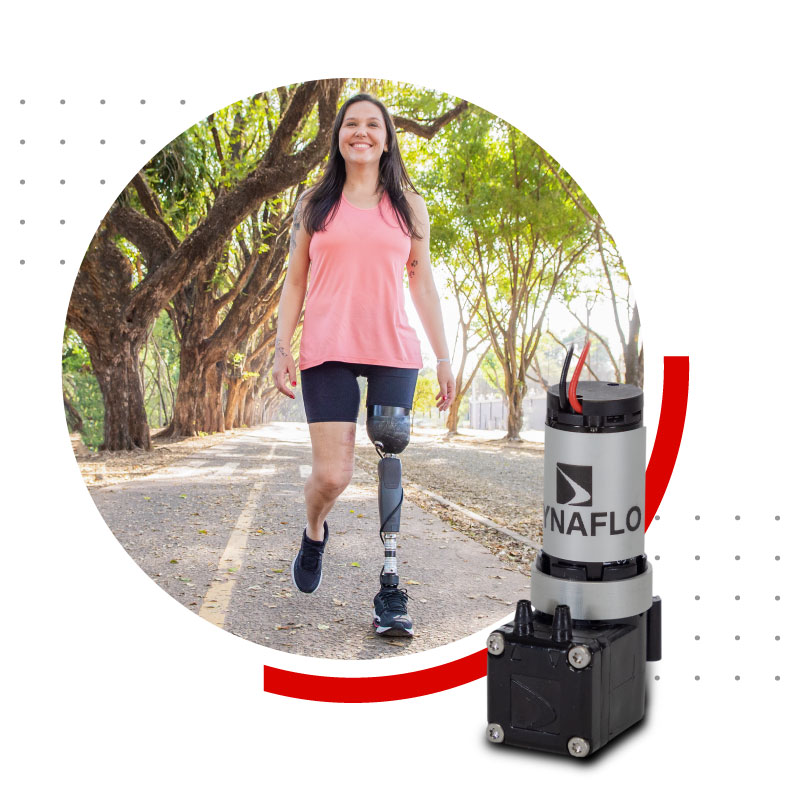 Fast, Comfortable Grip
Despite its size, the 2000 Series provides 1.5 lpm (0.05 cfm) flow, 2 bar (30 PSI) pressure, and can reach ~914 mbar (27 Hg) in mere seconds to ensure suction-based prosthetics grip firmly but comfortably to a residual limb.
Consistent Reliable Suction
An efficient high-torque motor and a lightweight, compact design ensure consistent, uninterrupted use over extended periods. The pump starts back up under full vacuum to ensure the prosthetic remains securely attached, even when an amputee moves in a way that might disrupt suction.
Mimic Natural Movement
The 2000 Series comes in a tiny micro package to fit compact engineering designs. It weighs only 0.04 lbs (18 g) to help your prosthetic provide amputees with an experience that is as close as possible to the natural movement and feel of an actual limb.
Extended Prosthetic Use
The 2000 Series mini diaphragm pump is designed to draw under 1 Watt at full vacuum. This power efficiency ensures amputees can confidently wear prosthetics for extended periods without worrying about battery drainage.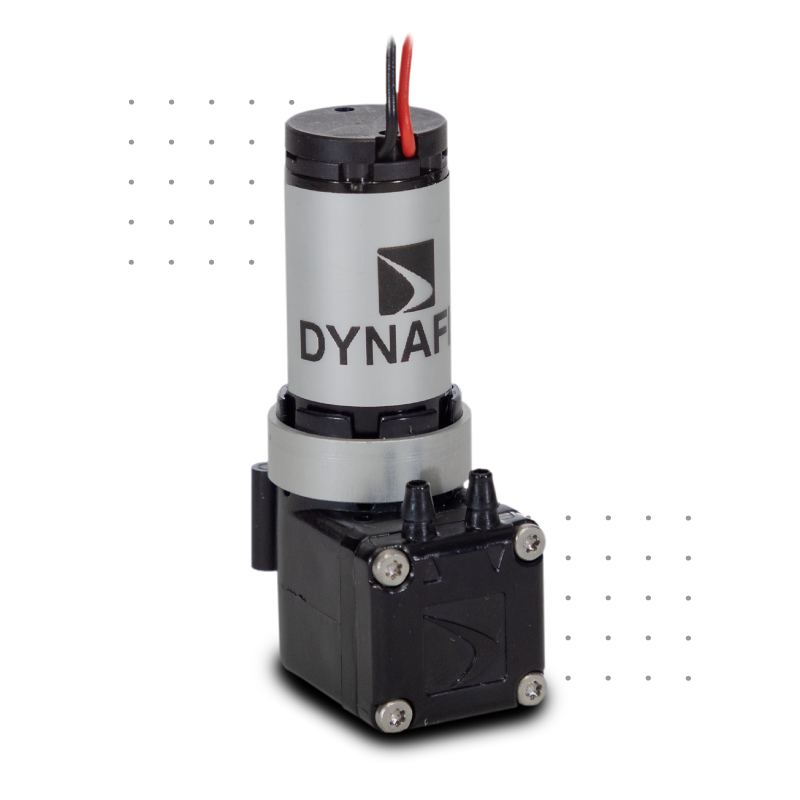 The
Best Pump

for Prosthetics
Dynaflo's 2000 Series micro diaphragm pump is one of the highest-performing pumps of its size and type. It provides high vacuum, portability, a high torque motor in a small package, and can start back up under full vacuum, making it ideal for suction-based prosthetics.
The 2000 Series micro pump uses a high torque motor and a lightweight, compact design that's built to last and start up under full load to prevent vacuum loss, avoiding embarrassing and potentially traumatic situations for amputees.
The 2000 Series is able to reach ~914 mbar (27 inHg) in a few seconds, providing the highest vacuum levels currently available from a diaphragm pump of this size. It draws under 1 Watt at full vacuum to allow for extended prosthetic use on a single battery charge.
The 2000 Series micro diaphragm pump weighs only 0.04 lbs (18 g). This makes it particularly attractive for battery-powered prosthetics that need to stay light.
Dynaflo's micro diaphragm pumps are built in the United States with medical-grade materials and designed specifically for use in demanding environments. Every pump we build is focused on safe and reliable performance that meets FDA contamination requirements and are RoHS and ISO 10933-compliant.
The most expensive component of a diaphragm pump is the motor. With prosthetics being used for long periods, often in harsh conditions, it's essential to be able to refurbish the pump while re-using the motor. We ensure replacement heads and valves are readily available so you can easily maintain your prosthetics devices. To date, thousands of pumps have been updated and refreshed with new heads/valves and put back into service.
Create
Your

Competitive Edge
Looking for unique performance capabilities or innovative features that no one else has to give you a competitive edge? We can adjust flow, performance, motor, and mechanical options to fit your precise requirements—or design an entirely new pump unique to you. The most requested customization features for prosthetics include:
Materials for diaphragms and valves
Eccentrics/strokes for precision flow control
Specialized wiring and connectors
Distinct mounting specifications
White labeling for pump design exclusivity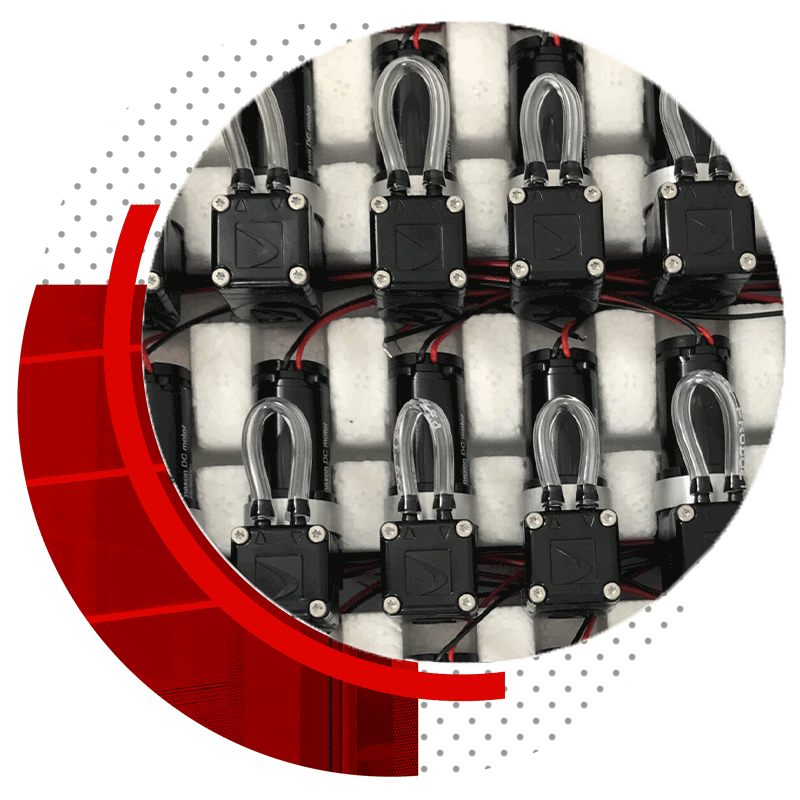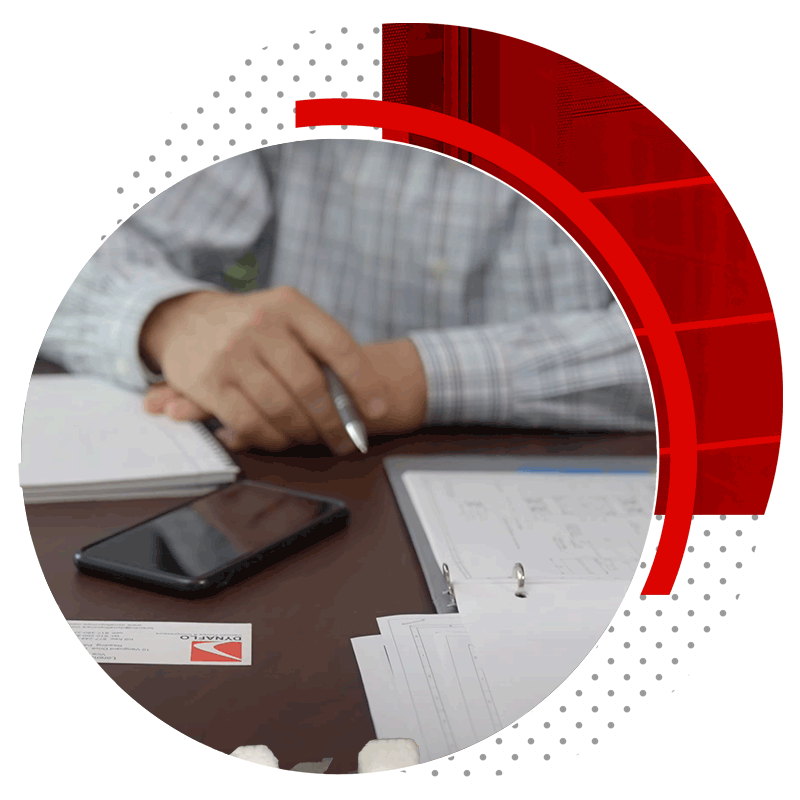 Building the Perfect Prosthetics
Together
Dynaflo, Inc. understands the importance of getting your prosthetics to market quickly. We provide skillful and confidential guidance throughout all phases of diaphragm pump development to create pumps that seamlessly integrate into your prosthetic devices and provide you with added value.
We work with your engineers and product managers to discuss the current market requirements your prosthetics must meet and features that will delight your customers. We use this information to determine your prosthetic's proper flow rate, cycle time, power, and compression levels.
We provide free trial periods for pumps that meet your specifications so you can quickly test and evaluate how the pump will perform in your prosthetic devices. We then work together to determine if modifications need to be made to the pump's standard specifications to ensure it meets all your requirements, integrates effortlessly, and is easy to maintain.
If changes are required, Dynaflo's engineering will fine-tune the pump's performance, flow, and mechanical options to fit the precise requirements of your prosthetic device. If your requirements are truly unique, we will create an entirely new, customized diaphragm pump just for you.
We inspect and test 100% in line with your requests before sending your diaphragm pump for final testing in your prosthetics.
Once all tests have passed, we will ship your diaphragm pumps and spare parts. It's important to us to minimize the overall running costs of our diaphragm pumps, and we consider this in the pricing of our pumps and replacement parts.
Our partnership doesn't end once you have your pumps. After your prosthetics are in use, we will reach out to collect your feedback and evaluate how your pumps are working. As the market changes and new needs develop, we respond with innovative, suitable solutions.
Let's create your diaphragm pump
Every mechanical ventilator is different, and some are one of a kind. We're excited to hear about your mechanical ventilators and how Dynaflo, Inc. can provide you with a competitive edge.