DIAPHRAGM PUMPS FOR VACUUM LIFTERS
Give your vacuum lifter a
true

competitive edge
Want your vacuum lifters to operate reliably, quickly, and consistently in field-based environments? Use Dynaflo's diaphragm vacuum pumps to deliver high performance with low power consumption.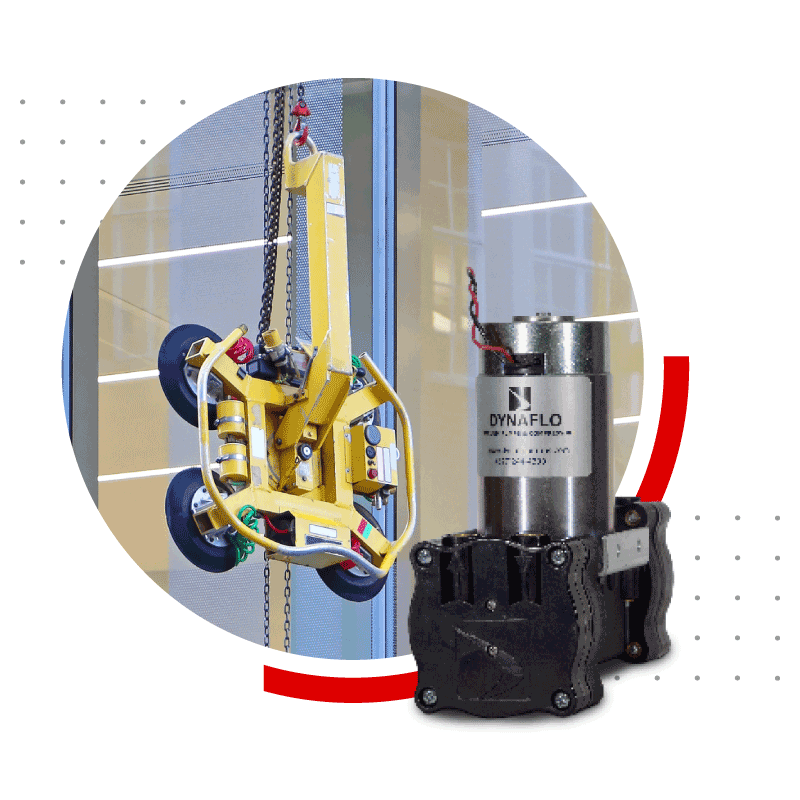 Grip, Lift, and Move Heavy Materials
Dynaflo, Inc. designs, manufactures and supports high-quality diaphragm vacuum pumps to ensure your lifter has enough power and suction to consistently grip, lift, and move heavy material. Our 1000 Series vacuum pumps are ideal for your lifter's materials handling tasks such as lifting and placing roof sheets, metal, wood, pipes, glass, electrical panels, concrete, and slab in any environment.
Achieve Vacuum Targets Quickly
The time it takes to achieve lift suction directly impacts your customer's productivity levels—and their satisfaction with your vacuum lifter. Dynaflo, Inc.'s diaphragm vacuum pumps provide high flow (up to ~80 lpm) so your lifter can quickly reach appropriate vacuum levels to safely lift and move heavy materials.
Maximize Usage Time & Performance
Reduce the time your customers spend replacing batteries with the diaphragm vacuum pump that's up to 60% more efficient than other leading pumps. Dynaflo's 1000 Series diaphragm pumps deliver 2.9 lpm/W to provide fast, reliable suction without burning through your battery life.
Is your vacuum lifter subject to leakage? Our diaphragm pumps restart under load to help your customers know that target vacuum levels are being maintained.
Extend your lifter's service life
Dynaflo's 1000 Series diaphragm vacuum pumps use high-quality materials for the valve, diaphragm, and bearings—and a motor with a minimum life of at least 1,000 hours— to maximize the life of your vacuum lifter.
Dynaflo's 1000 Series diaphragm vacuum pumps are oil-free, requiring significantly less maintenance than pumps that require oil. And when maintenance is needed, replacement parts are readily available and easy to get to and replace.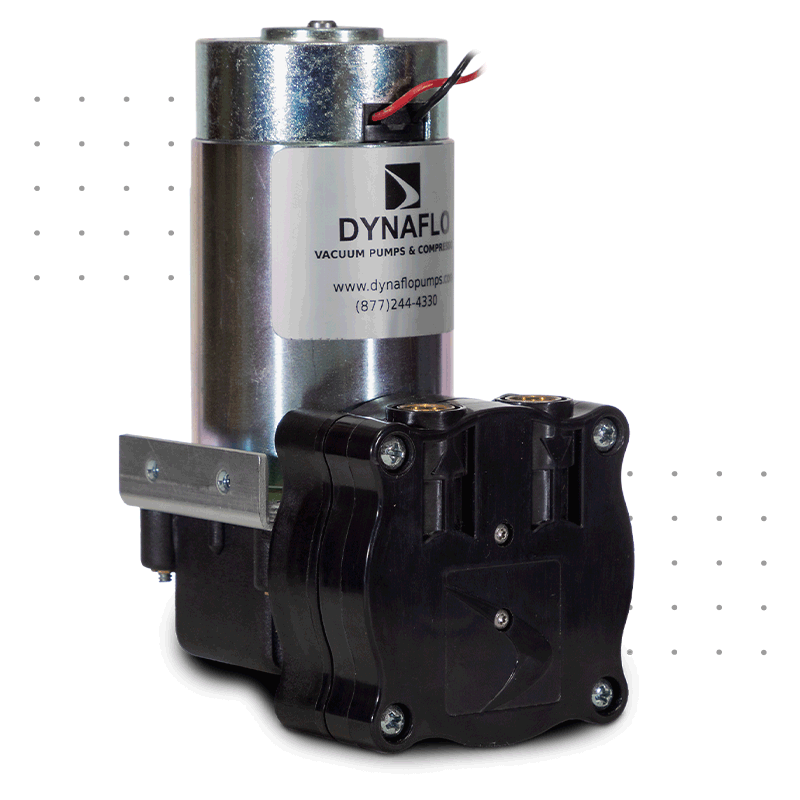 The
Best Pump

for Vacuum Lifters
Dynaflo's 1000 Series diaphragm vacuum pumps are the best pumps for battery-powered vacuum lifters because they deliver up to ~2.9 lpm/W, 44.5-75 l/min (1.6 -2.6 cfm) flow, -800 mbar (24 in Hg) vacuum, use a highly quality motor, and are up to 60% more efficient than other leading pumps. We can tailor each diaphragm vacuum pump to your unique requirements, test conditions, and packaging upon request.
Dynaflo's 1000 Series diaphragm vacuum pumps are small, compact, and lightweight. They weigh around 5.5 lbs (2.5 kg), and the largest standard dual head pump is approximately 5.81 in (14.76 cm) x 4.75 in (12.07 cm). This makes them ideal for use in portable vacuum lifters that require a lightweight solution that won't weigh down the lifter.
Each vacuum lifter requires unique performance parameters. Dynaflo diaphragm vacuum pumps are designed and built in the United States with high-quality, precision materials to meet your power and flow requirements.
We work with your engineers to build diaphragm pumps to your precise specification so your pump fits like a glove and performs reliably in your lifter. Battery-powered vacuum lifters benefit from the following advantages of our diaphragm pump materials and quality:
Prolonged use for battery-powered applications
Ability to reach optimal suction and release quickly
Maximized up-time between battery swaps
Longer pump life in demanding environments
Ease of maintenance
Our selection of high-quality valves, diaphragms, bearings, motors, wires, and other pump materials provide the durability you need in field-based environments. Our gas diaphragm vacuum pumps are oil-free for maintenance-free operation. When maintenance is necessary, replacement parts are readily available and easy to get to and replace.
A diaphragm pump that stops working in the middle of a lifting job could be catastrophic to the safety of operators. Every diaphragm vacuum pump we build is focused on safe and reliable performance.
Create
Your

Competitive Edge
Looking for unique performance capabilities or innovative features that no one else has to give you a competitive edge? Dynaflo, Inc. offers complimentary diaphragm pump trials and customization services to help you stand out from the crowd. We can adjust size, performance, motor, and mechanical options to fit your precise requirements. The most requested customization features for vacuum lifters include:
Fit-for-purpose motor type and performance
Port configuration (inline or parallel) to minimize hosing
Material options for diaphragms and valves
Specialized wiring and connectors
Distinct mounting specifications
White labeling to provide uniqueness to your product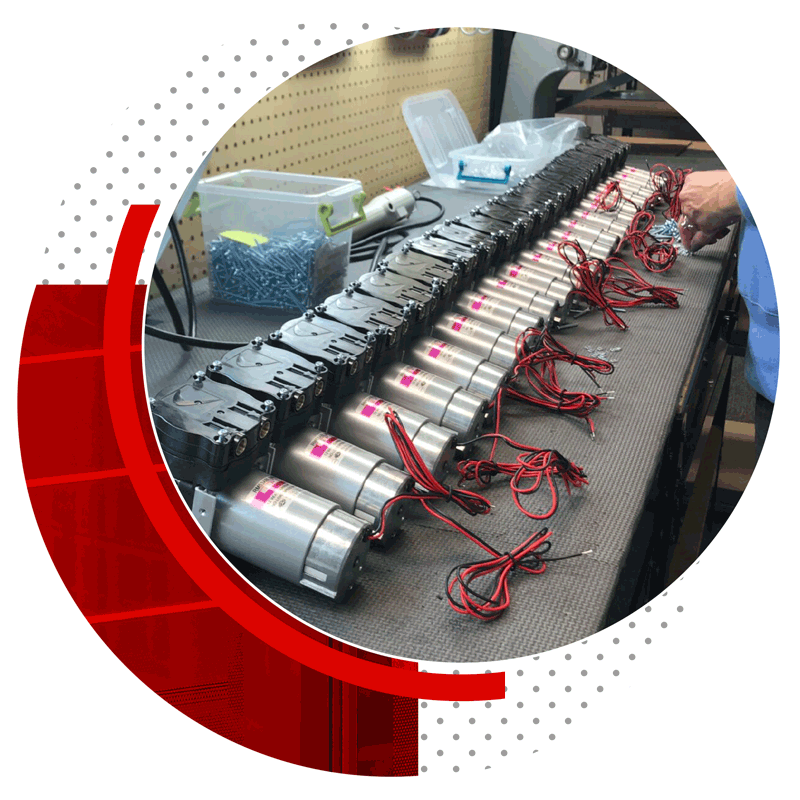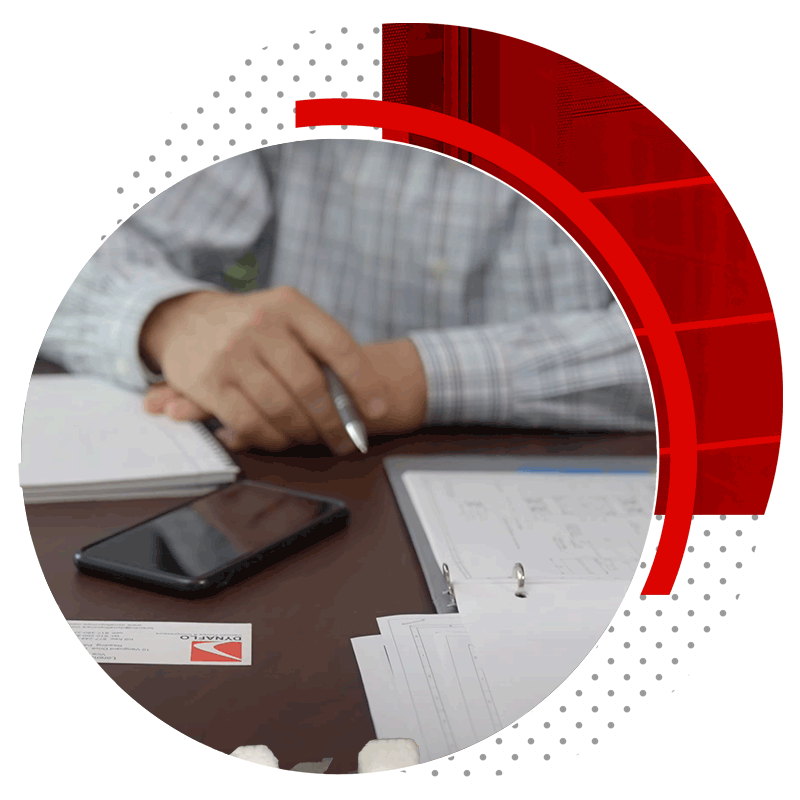 Building the Perfect Lifter
Together
Dynaflo, Inc. understands the importance of getting your vacuum lifters to market quickly. We provide skillful and confidential guidance throughout all phases of diaphragm pump development to create pumps that seamlessly integrate into your lifter and provide you with added value.
We work with your engineers and product managers to discuss the current market requirements your lifter must meet and features that will delight your customers. We use this information to determine your lifter's proper flow rate, cycle time, power, and vacuum/pressure levels.
We provide complimentary trial periods for pumps that meet your specifications so you can quickly test and evaluate how the pump will perform in your vacuum lifters. We then work together to determine if modifications need to be made to the pump's standard specifications to ensure it meets all your requirements, mounts quickly, and is easy to maintain.
If changes are required, Dynaflo's engineering will fine-tune the size, performance, motor, and mechanical options of the pump to fit the precise requirements of your lifter.
We inspect and test 100% in line with your requests before sending your diaphragm pump for final testing in your lifter.
Once all tests have passed, we ship your diaphragm pumps and spare parts. It is important to us to minimize the overall running costs of our diaphragm pumps, and we take this into account in the pricing of our pumps and replacement parts.
Our partnership doesn't end once you have your pumps. After your lifters are in use, we will reach out to collect your feedback and evaluate how your pumps are working. As the market changes and new needs develop, we respond with innovative, suitable solutions.
"We've been using Dynaflo, Inc.'s 1000 Series diaphragm vacuum pumps since 2002. They are ideal for us because they are small, lightweight and compact. We recommend Dynaflo diaphragm pumps because they are reliable with great performance."
Let's Create Your Diaphragm Pump
Every vacuum lifter is different, and some are one of a kind. We're excited to hear about your vacuum lifter and how Dynaflo, Inc. can give you with a competitive edge.