DIAPHRAGM PUMPS TO ACTUATE IV INFUSION SYSTEMS
Develop safer,
more accurate

IV infusion systems
Want to provide unfailing and efficient drug delivery? Dynaflo's mini diaphragm vacuum pumps generate short bursts of pneumatic pressure, vacuum, and precise flow control, making them ideal for actuating IV infusion systems. This allows healthcare professionals to administer precise dosages efficiently and ensures patient safety.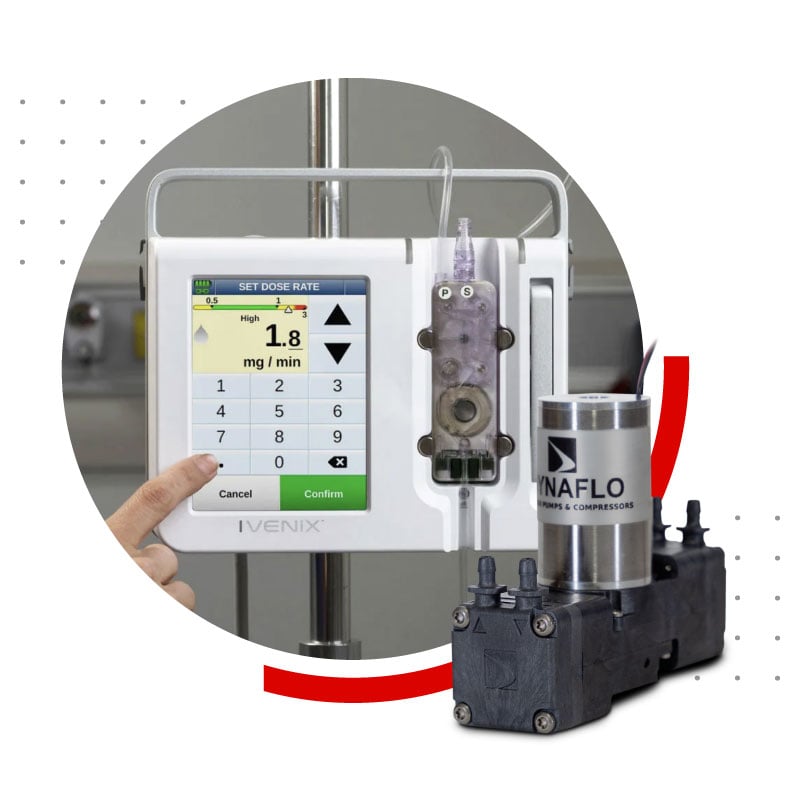 Keep infusion flow consistent
Dynaflo's mini diaphragm pumps generate short bursts of pneumatic pressure (up to 27 psi) and vacuum (up to 27 inHg) to keep the infusion system's flow rate consistent, even when tubing is long or there is a change in tube elevation.
Deliver medicine safely
It's critical for IV infusion systems to deliver the right amount of medicine to patients at the right time. The 6000 Series mini diaphragm pump was designed to restart under load so infusion systems can deliver medicine at a safe, consistent rate and pressure, even if the system temporarily stops. A max flow rate of 9.5 lpm (0.3 cfm) ensures the your IV infusion system delivers medicine quickly and efficiently.
Ensure unfailing reliability
These mini diaphragm pumps were tested continuously for 16 weeks to ensure they could withstand electrical and mechanical issues associated with thousands of short bursts (~100 ms) of on/off cycles. They're made with medical-grade materials for the valve, diaphragm, and bearings—and a long-lasting motor to help maximize the life of your IV infusion system.
Transport with ease
With a weight of just 0.2 lbs (0.1 kg), the 6000 Series mini diaphragm pumps are lightweight and compact. They are easy to integrate into small devices and help keep IV infusion systems light for optimal portability.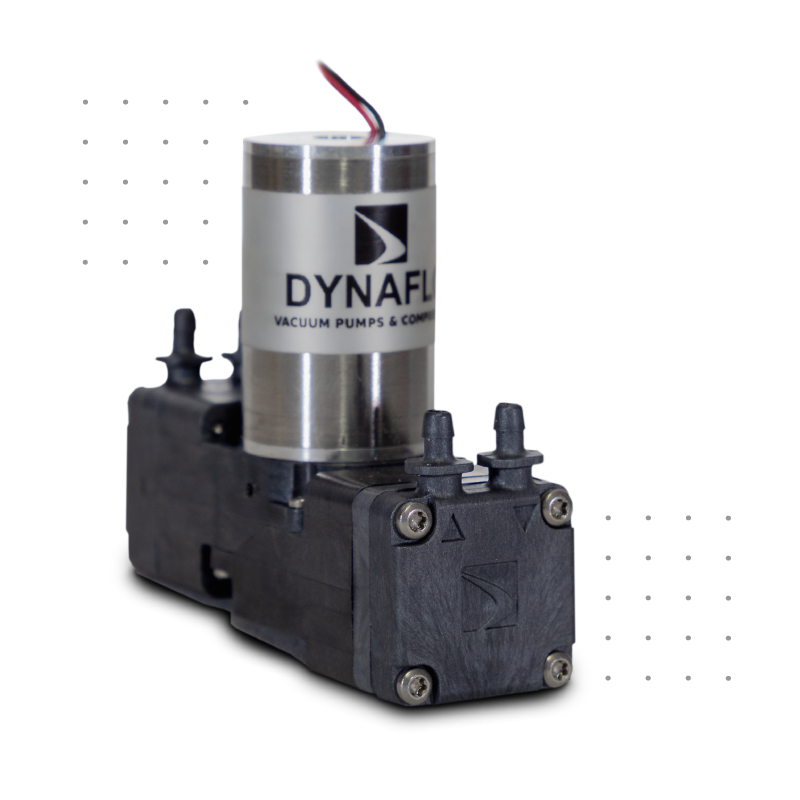 The
Best Pump

to Actuate IV Infusion Systems
Dynaflo's 1000 Series diaphragm vacuum pumps are the best pumps to actuate IV infusion systems because they generate short bursts of pneumatic pressure, vacuum, and provide precise flow control. We can tailor each diaphragm vacuum pump to your unique requirements, test conditions, and packaging upon request.
The 6000 Series features two diaphragm pump "heads" driven by a central brushless D.C. motor. One head is used for vacuum and the other for pressure. These outputs are used with valves and related electronics to precisely control flow.
The 6000 Series mini diaphragm pump is small and lightweight, weighing approximately 0.22 lbs (0.1 kg), to easily integrate into small portable products and compact spaces.
We specialize in creating reliable mini diaphragm pumps for the medical industry. The 6000 Series mini diaphragm pump was designed to restart under load so infusion systems can deliver medicine at a safe, consistent rate and pressure—even if the system temporarily stops.
Whether you're in a hospital, an ambulance, or an aircraft, the last thing you want to think about is whether your equipment will fail you when lives are on the line. That's why Dynaflo pumps are built in the United States with medical-grade materials and designed specifically for your unique power and flow requirements. The 6000 Series diaphragm pumps meet FDA contamination requirements and are RoHS and ISO 10933-compliant.
Our selection of high-quality valves, diaphragms, bearings, motors, wires, and other pump materials provide the durability you need in demanding emergency environments. Our gas diaphragm vacuum pumps are oil-free for maintenance-free operation. When maintenance is necessary, replacement parts are readily available and easy to get to and replace.
Create
Your

Competitive Edge
Looking for unique performance capabilities or innovative features that no one else has to give you a competitive edge? Dynaflo, Inc. offers complimentary customization services to help your IV infusion system stand out from the crowd. The most requested customization features for suction machines include:
Port configuration to minimize hosing
Material options for diaphragms and valves
Specialized wiring and connectors
Distinct mounting specifications
White labeling to provide exclusivity of the pump design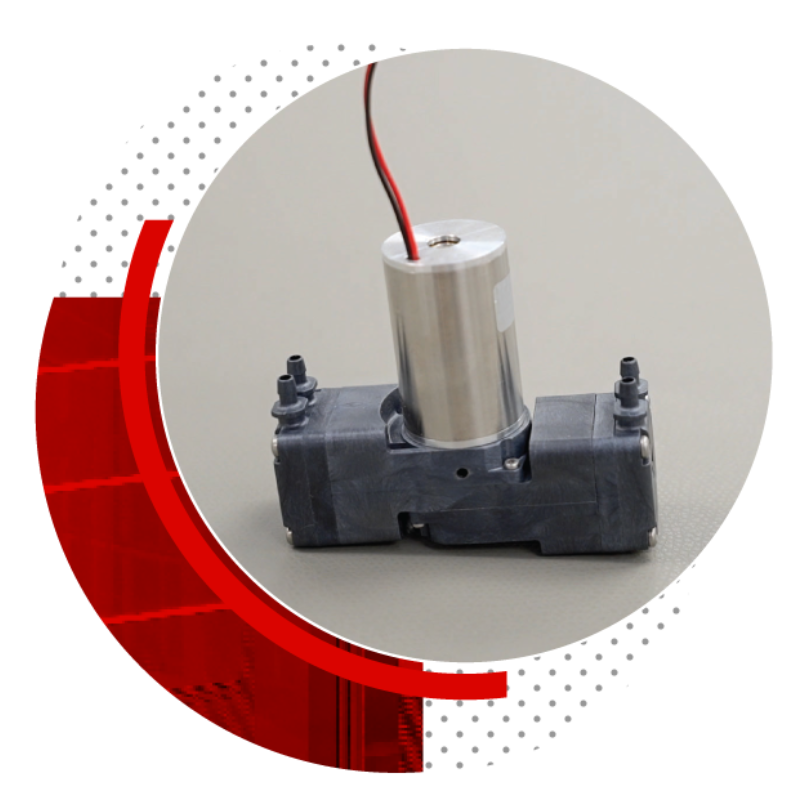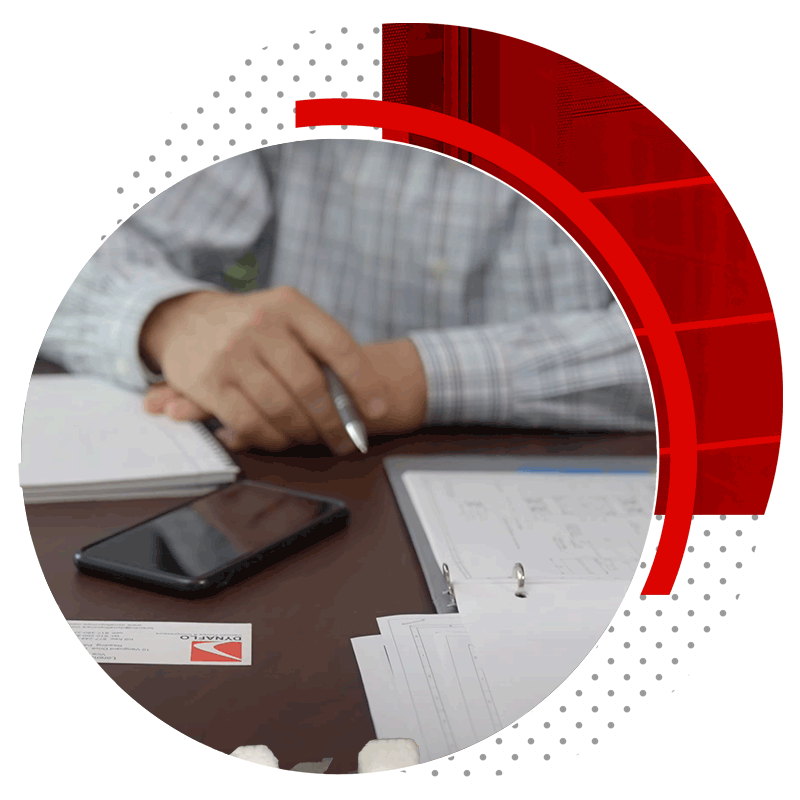 Building the Perfect Lifter
Together
Dynaflo, Inc. understands the importance of getting your IV infusion system to market quickly. We provide skillful and confidential guidance throughout all phases of diaphragm pump development to create pumps that seamlessly integrate into your products and provide you with added value.
We work with your engineers and product managers to discuss the current market requirements your devices must meet and features that will delight your customers. We use this information to determine your IV infusion system's proper flow rate, cycle time, power, and vacuum/pressure levels.
We provide complimentary trial periods for pumps that meet your specifications so you can quickly test and evaluate how the pump will perform in your IV infusion system. We then work together to determine if modifications need to be made to the pump's standard specifications to ensure it meets all your performance and flow requirements, integrates easily, and is easy to maintain.
If changes are required, Dynaflo's engineering team will fine-tune the size, performance, motor, and mechanical options of the pump to fit the precise requirements of your infusion system.
We inspect and test 100% in line with your requests before sending your diaphragm pump for final testing in your infusion system.
Once all tests have passed, we ship your diaphragm pumps and spare parts. It is important to us to minimize the overall running costs of our diaphragm pumps, and we take this into account in the pricing of our pumps and replacement parts.
Our partnership doesn't end once you have your pumps. After your infusion systems are in use, we will reach out to collect your feedback and evaluate how your pumps are working. As the market changes and new needs develop, we respond with innovative and suitable solutions.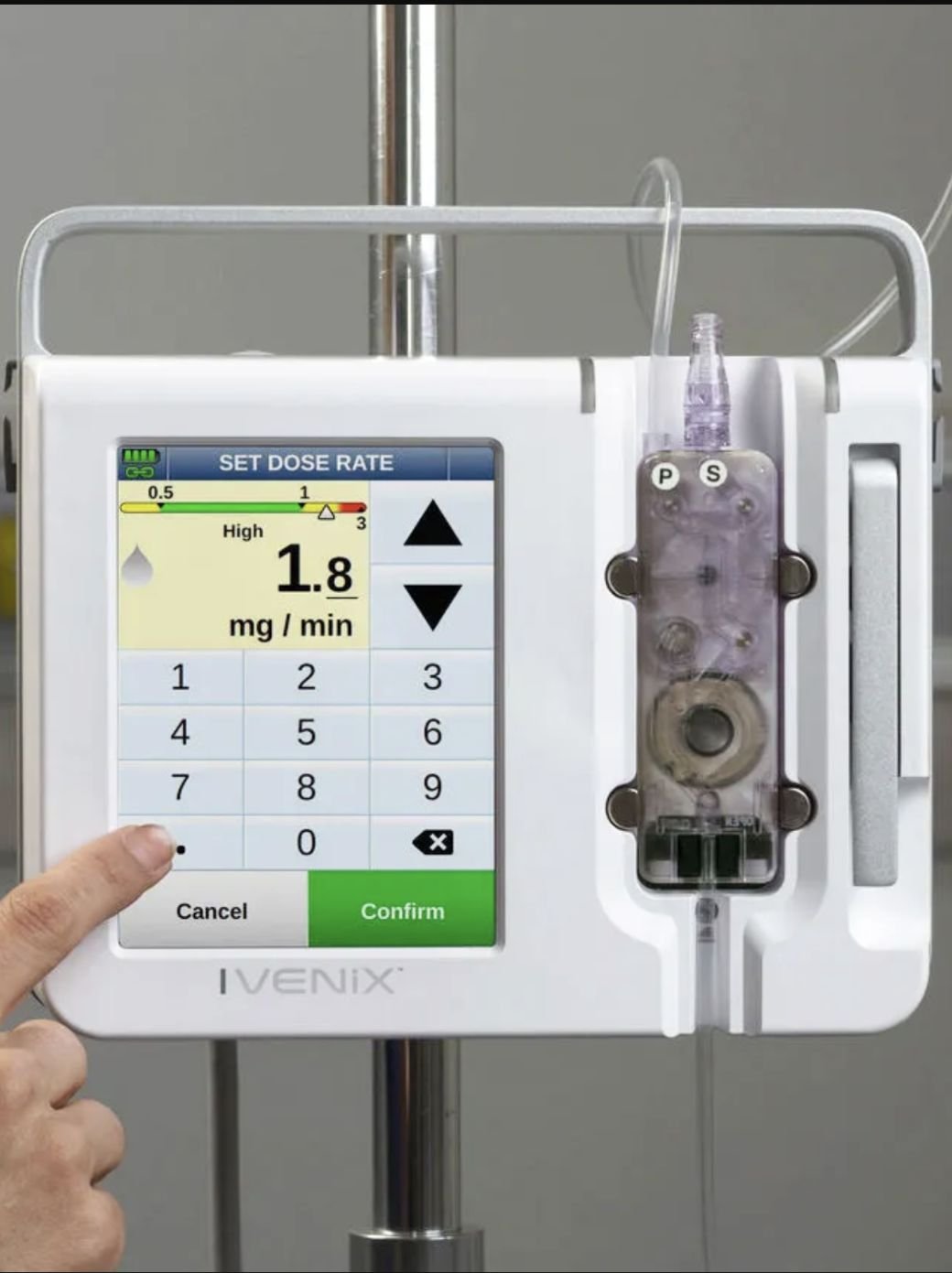 Speed of development and prototyping, partnership, and collaboration were all key factors when working with Dynaflo.
Learn more
Let's Create Your Diaphragm Pump
Every medical device is different, and some are one of a kind. We're excited to hear about your suction devices and how Dynaflo, Inc. can give you with a competitive edge.