2000 SERIES custom MICRO GAS DIAPHRAGM PUMPS
Meet the highest performing micro pump
The 2000 Series micro diaphragm pumps are ideal for prosthetics and other products that require high vacuum, portability, a high torque motor in a small package, and can start back up under full vacuum. Need something unique? Every micro pump can be fully customized to meet your specific needs.
Power & Flow
0.7 lpm/W
Max Flow
1.5 l/min (0.05 cfm)
Max Vacuum
~914 mbar (27 inHg)
Max Pressure
2 bar (30 psi)
Price Range
$150-$200

*
*

Prices are typical for brush DC motors. Final pricing depends on the motor, volume, and customization features.
Why customers
love

the 2000 Series
These micro diaphragm pumps reach high vacuum quickly, start back up under load, and run for hours.
Why
you

will love this micro pump
We specialize in creating reliable miniature diaphragm pumps for the medical industry. Our 2000 Series mini diaphragm pumps are ideal for products like partial prosthetics, which require starting under load. They do this using a high torque motor and a lightweight, compact design that's built to last and start again without fail.
The 2000 Series mini diaphragm pump is designed to draw under 1 Watt at full vacuum. This power efficiency makes it ideal for any product that works off a relatively small battery and does not require much flow.
The 2000 Series offers 1.5 lpm of flow but also 30 PSI pressure and about 27 in of Hg of vacuum, making it one of the highest performing pumps of its size and type. It is also able to reach ~914 mbar (27 Hg) in a few seconds — making it ideal for small volume applications.
The 2000 Series diaphragm pump utilizes a low-profile, long-life brushless DC motor that operates over a wide range of speeds to work reliably with prolonged use. Brush DC motor options are also available.
Designed and built in the United States with high-quality, precision materials and a strong focus on safe, reliable performance.
Dynaflo uses high-quality materials for the valve, diaphragm, and bearings—and a powerful, high torque motor to maximize the life of your battery-powered products in any environment.
Given that the bulk of the cost of the 2000 Series mini diaphragm pump is in the motor and is often used in harsh conditions, it is essential to be able to refurbish the pump while re-using the motor. To date, thousands of pumps have been updated and refreshed with new heads/valves and put back into service.
Dynaflo, Inc. can tailor micro diaphragm vacuum pumps to meet your unique requirements, test conditions, and packaging upon request. These are typical specifications for the 2000 Series micro diaphragm pumps:
Power & Flow
0.7 lpm/W
Max Flow
1.5 l/min (0.05 cfm)
Max Vacuum
~914 mbar (27 inHg)
Max Pressure
~2 bar (30 PSI)
Motor Options
Brush DC or Brushless DC
Voltage
3.7-6 VDC

Current

~0.5 A
Weight
0.04 lbs (18g)
Mounting
Custom
Valve Material
Silicone or custom
Diaphragm Material
EPDM or custom
Port Orientation
Side-by-side
Wire /Connector
Flying lead or custom
Price Range
$150-$200

*
*

Prices are typical for brush DC motors. Final pricing depends on the motor, volume, and customization features.
Create
your

competitive edge
Dynaflo, Inc. provides complimentary diaphragm pump customization services to help your products stand out from the crowd. We can adjust flow, performance, motor, and mechanical options to fit your precise requirements—or design an entirely new pump unique to you. The most requested customization features include:
Precise flow requirements
Fit-for-purpose motor type and performance
Port configuration to minimize hosing
Material options for diaphragms and valves
Specialized wiring and connectors
Distinct mounting specifications
White labeling to provide exclusivity of the pump design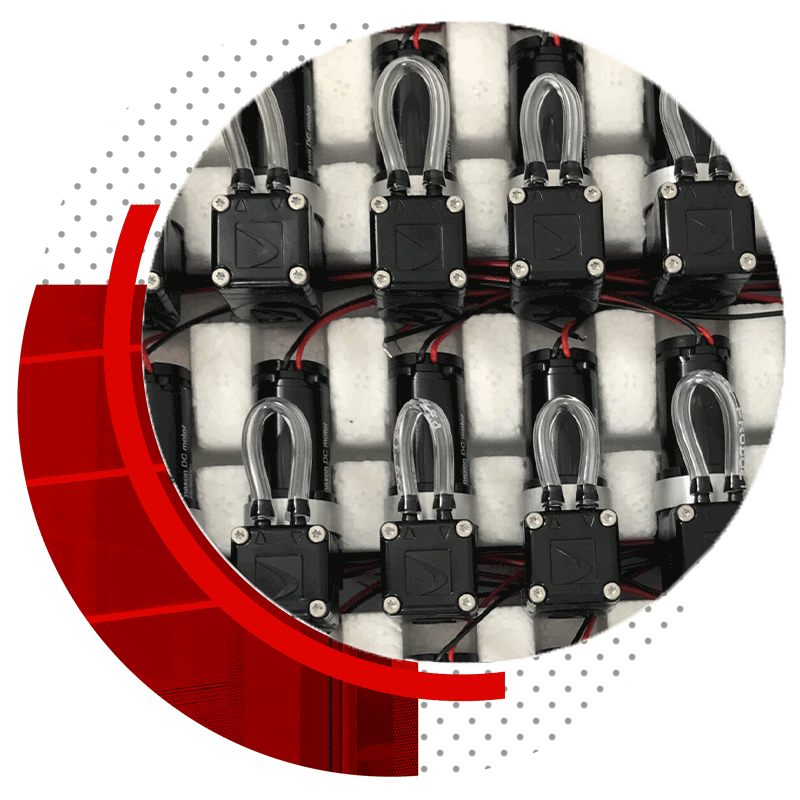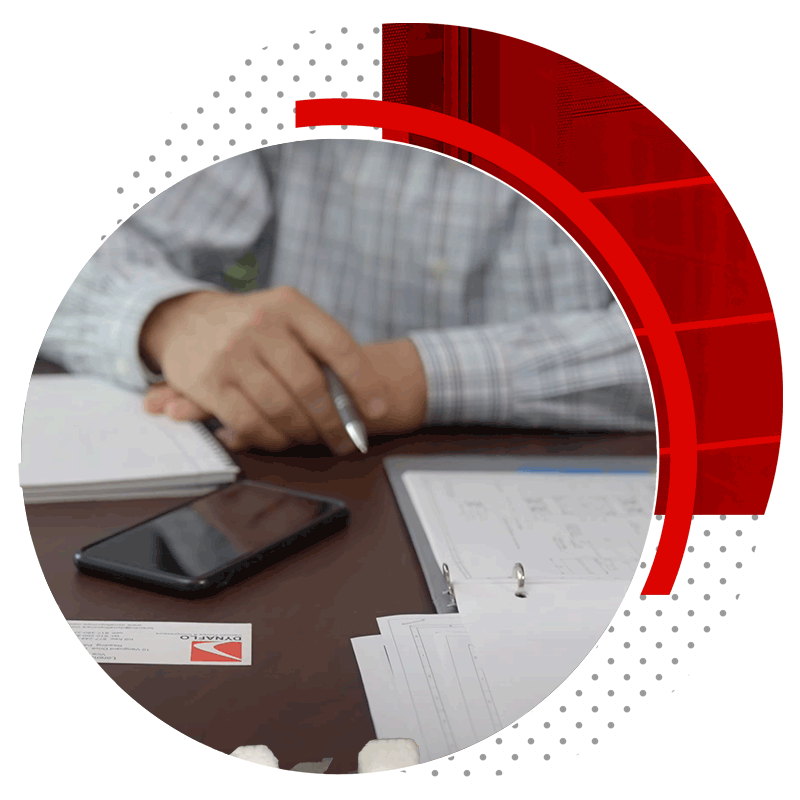 Building the perfect product
together
Dynaflo, Inc. understands the importance of getting your products to market quickly. We provide skillful and confidential guidance throughout all phases of diaphragm pump development to create pumps that seamlessly integrate into your products and provide you with added value.
We work with your engineers and product managers to discuss the current market requirements your product must meet and the features that will delight your customers. We use this information to determine your product's proper flow rate, cycle time, power, and vacuum levels.
We provide complimentary trial periods for pumps that meet your specifications so you can quickly test and evaluate how the pump will perform in your product - for free. We then work together to determine if modifications need to be made to the pump's standard specifications to ensure it meets all your requirements, mounts quickly, and is easy to maintain.
If changes are required, Dynaflo's engineering will fine-tune the material, mechanical, and mounting options of the pump to fit the precise requirements of your product.
We inspect and test 100% in line with your requests before sending your diaphragm pump for final testing in your products.
Once all tests have passed, we ship your diaphragm pumps and spare parts. It is important to us to minimize the overall running costs of our diaphragm pumps, and we take this into account in the pricing of our pumps and replacement parts.
Our partnership doesn't end once you have your pumps. After your products are in use, we will reach out to collect your feedback and evaluate how the diaphragm pumps are working for you. As the market changes and new needs develop, we respond with innovative, suitable solutions.
2000 Series micro pump in use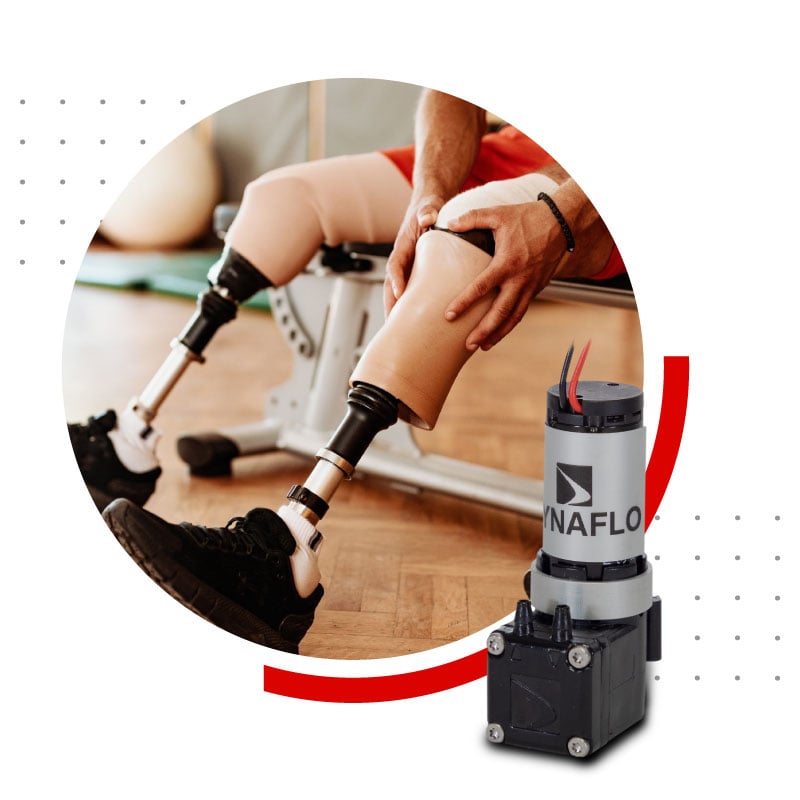 How the 2000 series is used in prosthetics
The diaphragm pump is the heart of prosthetic devices. It needs to reach a high vacuum within seconds, be able to start back under load, run on a small battery for hours, and fit into a tiny space. Given the potentially harsh conditions associated with creating vacuum suction near the human body, it is also essential to be able to refurbish the pump while re-using the motor. This is what makes the 2000 series perfect for prosthetics.
Let's create your micro diaphragm pump
Every product is different, and some are one of a kind. We're excited to hear about your products and how Dynaflo, Inc. can provide you with a competitive edge.