CUSTOM Diaphragm vacuum Pumps & Compressors
Give your products a
competitive edge
Dynaflo's energy-efficient gas diaphragm vacuum pumps and air compressors are the right mix of size, weight, power, and price — and can be custom-designed for your specific needs.
Our diaphragm pumps power cutting-edge products such as medical devices, air/gas monitoring devices, vacuum lifters, food & packaging, and high-precision devices.
Most
popular

diaphragm pumps
Diaphragm pumps made for your application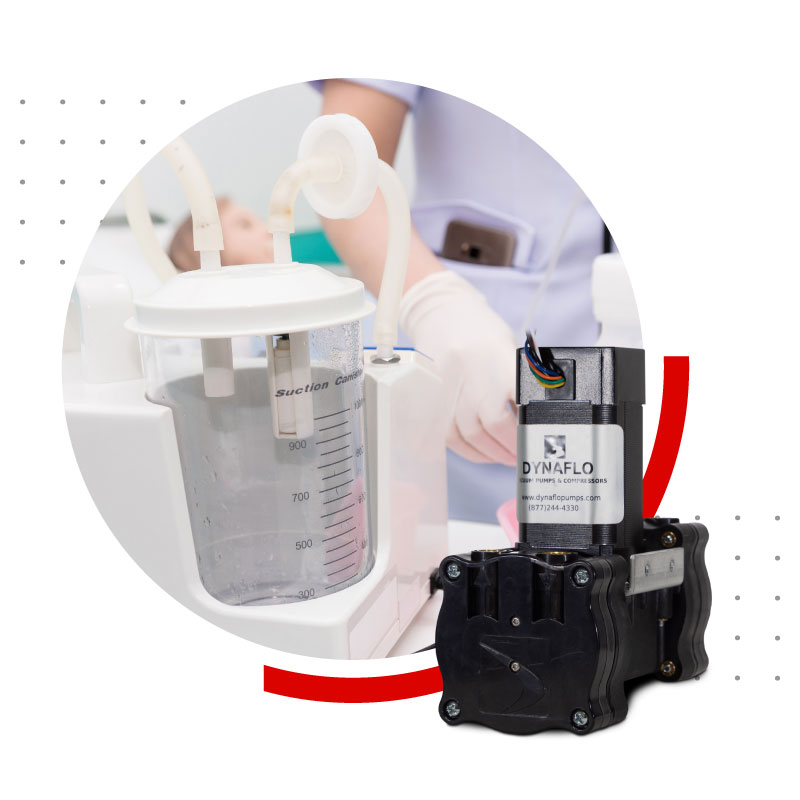 Suction Machine Diaphragm Pumps
Your suction machines need to rapidly clear airways while optimizing patient safety. Dynaflo's diaphragm vacuum pumps deliver high performance with low power consumption, making them ideal for portable suction machines. This allows healthcare professionals to prioritize patient safety by balancing strong removal capabilities with the gentleness required for delicate tissues.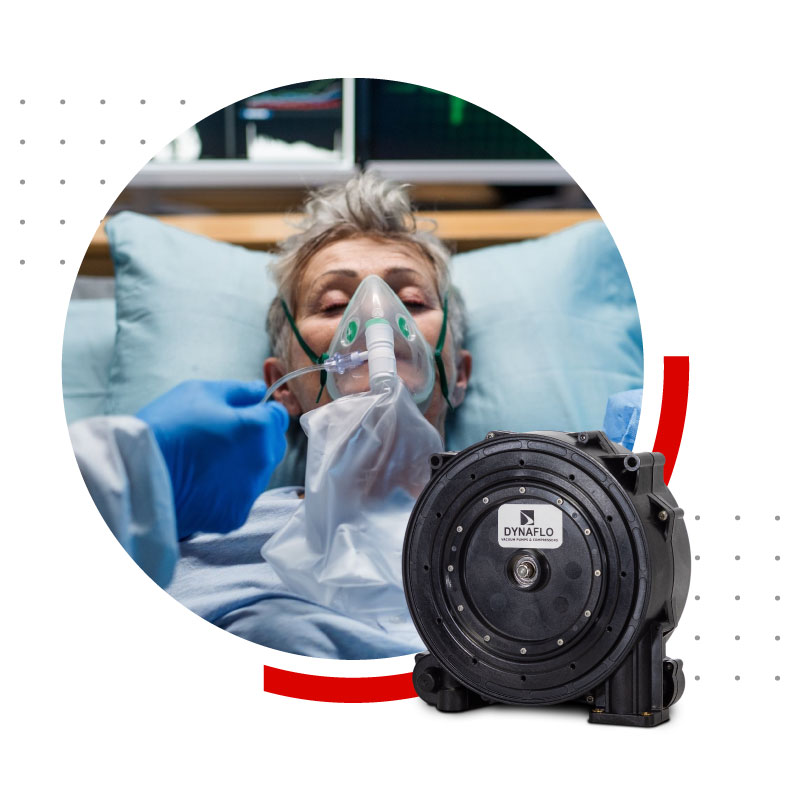 Mechanical Ventilator Diaphragm Pump
Provide high-performance, pulse-free ventilation to respiratory patients in demanding EMS, military, and medical transport environments. Dynaflo, Inc.'s 3000 Series "Radial 12" smooth flow diaphragm pumps provide high performance, low pressure, and the only real smooth output flow on the market so your ventilator can carefully control airflow to patients.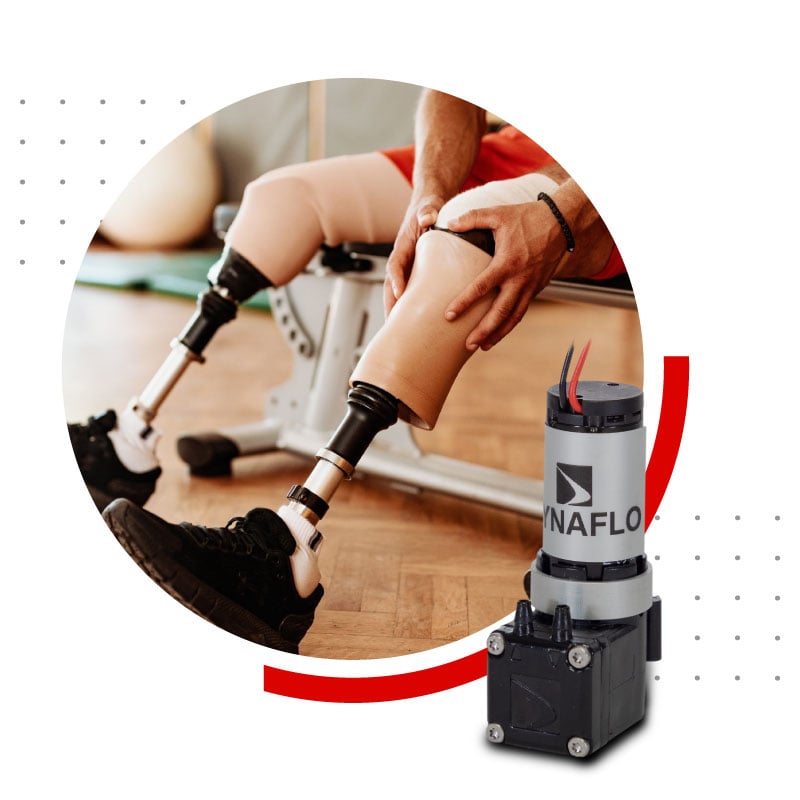 Prosthetics Diaphragm Pumps
The diaphragm pump is the heart of your suction-based prosthetic devices. It needs to reach a high vacuum within seconds, be able to start back under load, run on a small battery for hours, and fit into a tiny space. Given the potentially harsh conditions associated with creating vacuum suction near the human body, it is also essential to be able to refurbish the pump while re-using the motor.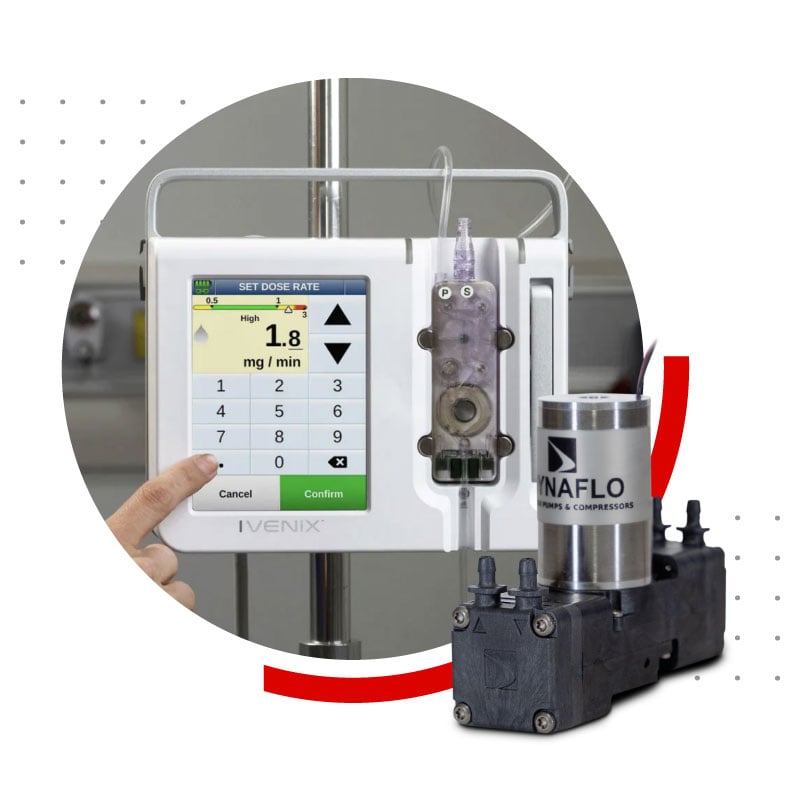 Drug Infusion System Diaphragm Pumps
When it comes to revolutionary drug infusion systems, you need a pump that can generate short bursts of pneumatic pressure and a vacuum to drive infusion pumps and precisely control the flow of drugs. Critical diaphragm pump performance criteria for drug infusion systems include time-to-vacuum, time-to-pressure, cost, and reliability. The 6000 Series Mini Pump has four valves, so it's good for high flow—and meets critical FDA criteria for drug infusion systems.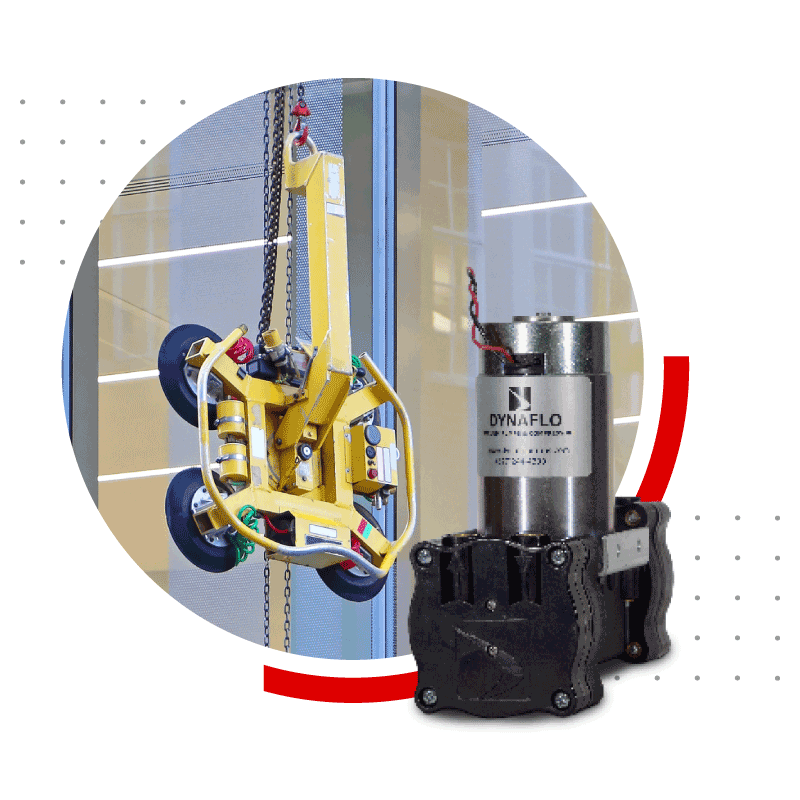 Vacuum Lifter Diaphragm Pumps
Your vacuum lifters need to increase operator safety while maximizing productivity. Dynaflo's 1000 Series are small, lightweight, and powerful diaphragm pumps that use about ½ the power of leading pumps. Because of their size, you can fit 1-2 diaphragm pumps in smaller lifters or compact spaces and up to 20-30 for larger lifters.
Recent diaphragm pump articles
Let's create
your

diaphragm pump
Every product is different, and some are one of a kind. We're excited to hear about your products and how Dynaflo, Inc. can provide you with a competitive edge.