Honda Helps Dynaflo Manufacture Pulse-Free Compressors For Portable Ventilators To Help Victims Of Covid‑19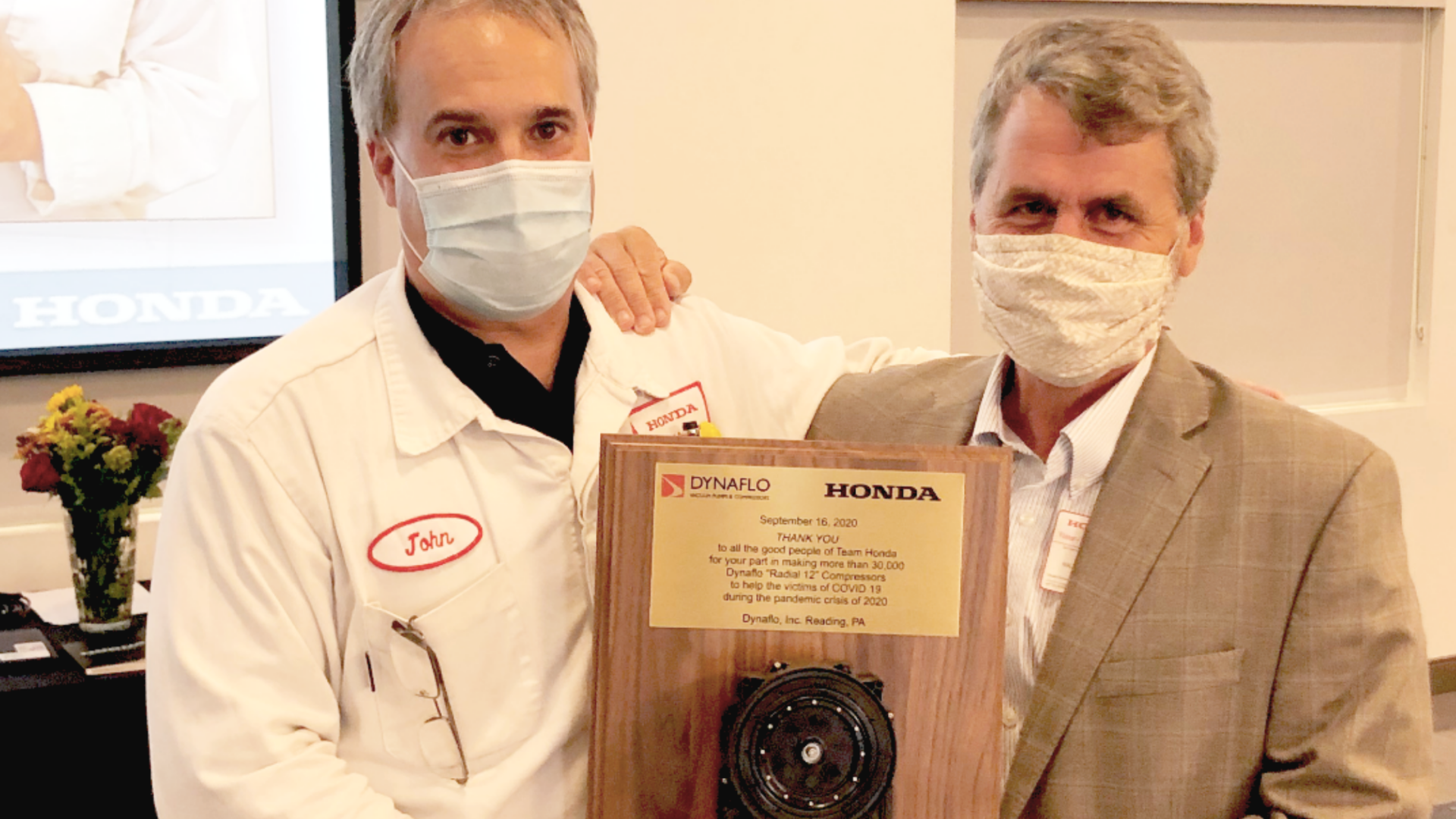 Prior to March 2020, Dynaflo, Inc. was building the 3000 "Radial 12" Compressor for a ventilator manufacturer at the rate of about 75 units per week.
The COVID-19 crisis of early 2020 caused a surge in demand for ventilators, challenging Dynaflo to bump production up to 2,500 per week – a factor of over 30! There was no way Dynaflo, Inc. could do it alone.
Meanwhile, in Marysville Ohio, Honda of America ("HAM") stopped making cars due to the pandemic and was looking for ways to put their idled production capacity to work and help US manufacturing in any way possible. They listed themselves with www.stopthespread.org as available to assist if the right opportunity presented itself.
Skipping details, Dynaflo, Inc. reached out to www.stopthespread.org and they connected us with Honda.
During the next few months, HAM converted one of its buildings into a Dynaflo, Inc. production site, involving over 200 employees during the extent of the project – which lasted from March until September 2020. During that time, they manufactured over 30,000 compressors – each of which requires roughly 300 parts – amounting to close to 10 million individual pieces and roughly 75,000 man-hours of labor.
Dynaflo – and the Nation – stand forever grateful to Honda for their professionalism, their attitude, their enthusiasm, and their dedication to making this project a success.
There is no telling how many lives were saved as a result – we will never know. But we do know that we have the good people at Honda to thank for it. We'd like to give a special shout-out to John McTighe for leading his Honda team through this challenging effort.
You can read more about HAM's efforts in this LinkedIn Article from Rick Schostek, Executive Vice President at American Honda Motor Company, Inc.