What is the Most Efficient Low-Power Diaphragm Vacuum Pump?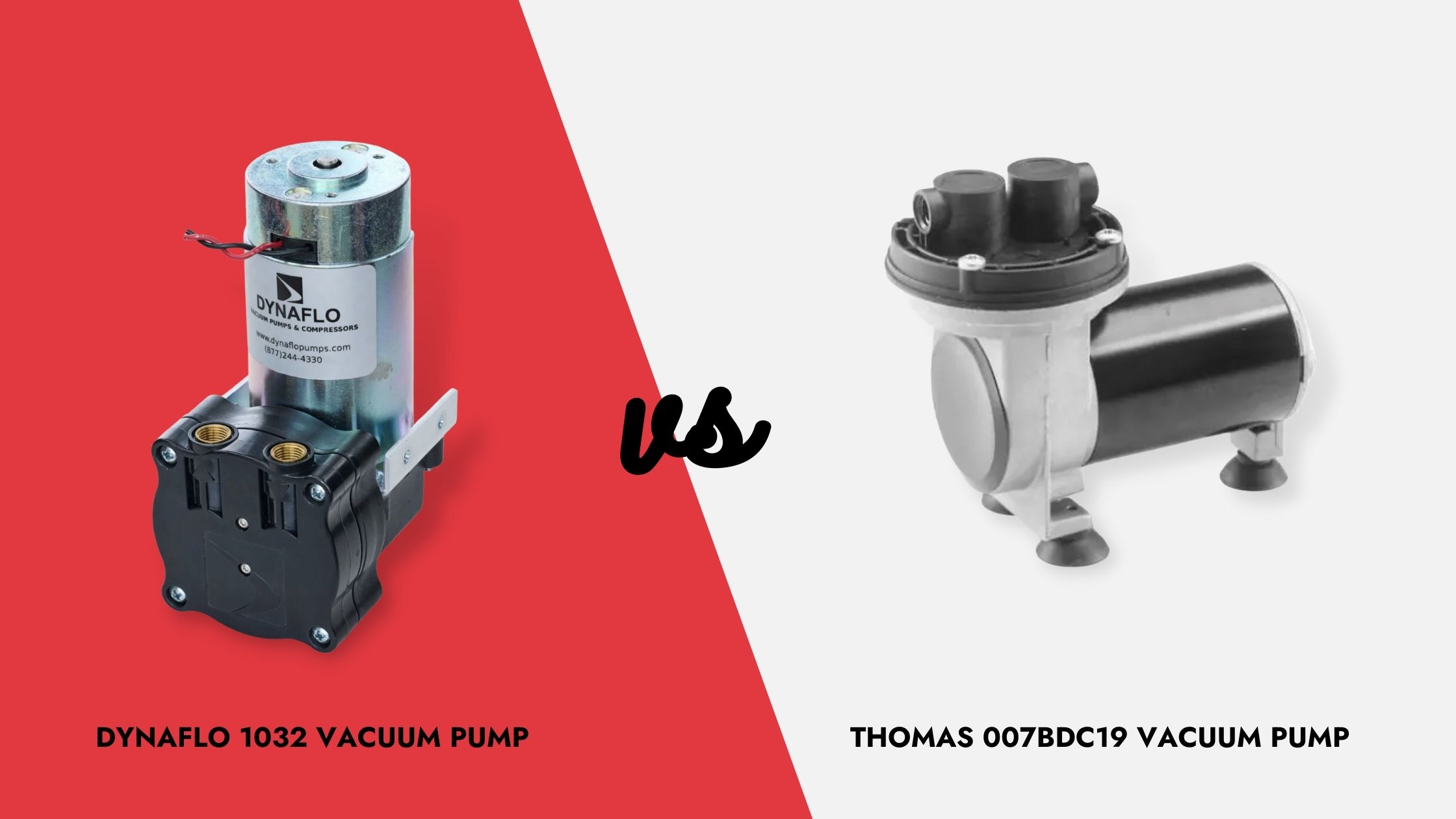 Manufacturers of battery-powered equipment prefer low-power diaphragm vacuum pumps and compressors because operators can use them on a single charge for an extended period. The most critical factor for these battery-powered applications is the efficiency of the diaphragm vacuum pump.
Efficiency Test Outline
We compared our Dynaflo Model 1032 single-head diaphragm pump to a Thomas 007 single-head diaphragm pump. Both of these diaphragm pumps use 12VDC motors and have similar performance specifications.
Dynaflo performed the tests according to our standard test procedures, using calibrated flow, pressure, and electrical measurement devices.
Vacuum Pump Test Procedure
The test procedure was simple: connect the vacuum pump under test to the power supply and, in this case (since it was a vacuum test), an input hose equipped with a shut-off valve and flow/pressure sensors.
We closed the valve gradually and measured the vacuum level, voltage, and current (power) at -1 PSIG increments for each pump.
Test Results
The results were very clear: the Dynaflo Model 1032 vacuum pump exhibited comparable flow vs. vacuum but was significantly more efficient than the Thomas Model 007.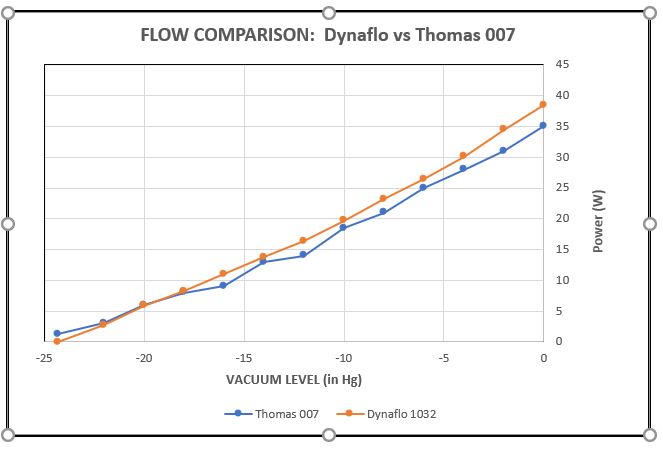 FLOW: Dynaflo 1032 v Thomas 007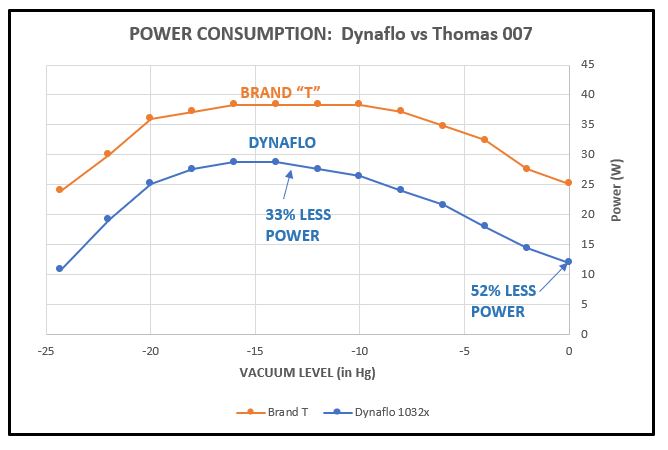 POWER: Dynaflo 1032 v Thomas 007
As can be seen from the graphical data, the Dynaflo Model 1032 single-head pump used between 30% and 55% less power than the Thomas 007.
Note that the power curve is not linear and that many pump manufacturers list the power consumption "at rated vacuum." For example, in this case, the published power rating for the Thomas 007BDC19 is 24W. In actuality, it increases to approximately 38W in the mid-range of vacuum and back to 24W at full flow.
We encourage potential pump users to look at Pump Efficiency by looking at lpm/W – or liters per minute per Watt of power. This formula will paint a more meaningful picture for those looking for a low-power diaphragm vacuum pump or compressor.
Same Output, Higher Efficiency
For battery-powered applications, higher efficiency represents a significant factor in usage. By substituting a Dynaflo 1032, a battery-powered device could be left in service up to twice as long as one using a Thomas 007.
The Dynaflo 1032 single-head and dual-head diaphragm vacuum pumps and compressors provide significant time-saving value to manufacturers in numerous applications ranging from materials handling lifters to medical aspirators in mobile settings.
Contact us to determine if a highly efficient, low-power Dynaflo diaphragm pump can give your product a competitive edge. You might even find out that they cost less too.